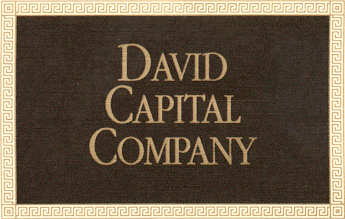 1428 Brickell Avenue, 8th Floor Miami, Florida 33131
(305) 371-9309 (305) 371-5511 fax


An Investment Banking Resource
For Owners of Closely Held Businesses


Selling Businesses
Accessing capital to grow your business to the next level
Growing through acquisitions
Cashing out part of your investment, without losing control
Using ESOPs to max out your financial picture
Strategic plans to make your business more valuable to buyers

Background
David Capital Company provides a unique combination of services for the owners of closely held businesses. We help these companies grow through acquisitions, obtain financing when conventional banking institutions will not lend, and get the best prices when it comes time to sell. We provide access to investors who will invest in a minority interest in fast growing companies.
Our Resources
The International Merger and Acquisition Professionals association (IMAP). When you hire David Capital Company you tap into a confidential network of more than 60 merger and acquisition professionals throughout the the world. Each has access to buyers and sellers in his geographic area. IMAP members close more than $2 billion of middle market transactions annually.

A comprehensive database of business buyers. This continually updated database lists more than 2,000 buyers classified by the industry and size of company which is sought.

A comprehensive database of U.S. companies. We subscribe to a database containing most of the businesses (over 10 million) in the United States, updated quarterly. The data comes from the most highly respected provider of business financial information. The database classifies companies by sic code, geographic location, number of employees and company revenue size. We use it to locate prospective buyers.

Thomas L. David is a highly regarded professional, an attorney with decades of experience in mergers and acquisitions, financing and other businesses transactions. He holds an accounting degree and worked as an auditor for Price Waterhouse before beginning his legal career. He is listed in the Martindale Hubbell Bar Register of Preeminent Lawyers He has served on the Board of Governors of the Greater Miami Chamber of Commerce and is a member of the Chairman's Club of that chamber. This experience and host of analytical skills and contacts will speed you through the normal complications of business sales, acquisitions and financing transactions.
More Information about David Capital Company
Articles
Transactions
Brochure Information
Contacting David Capital Company
You can contact us at the above address or phone number. Or click here to send E-mail.

David Capital Company:
You may be too small for Wall Street
but you're just right for us